About Iceland's Ice Caves
An ice cave is a naturally occurring cave that contains a significant of ice throughout the year. Typically, they're known for their remarkable photogenic beauty. Due to ever-shifting temperatures and movement of the glaciers they lie within, new ice caves usually disappear and form with each passing year.
Guide to the Ice Caves and Ice Caving Tours in Iceland
Entering an ice cave feels like leaving reality behind and entering a fairy tale. Sparkling like a diamond, cyan blue, and crystal clear, ice caves have a surreal atmosphere that cannot be experienced anywhere else in the world, only deep inside the body of a glacier.
Eleven percent of Iceland's total land area is covered by glaciers. This allows you the greatest selection of these enthralling natural wonders. With crystal blue caves, black ice caves, ice walls that are striped with layers of volcanic ash, man-made ice tunnels, and even indoor ice caves, Iceland has you covered!
Let us guide you around Iceland's most amazing ice caves! Learn how they are formed, when is the best season to visit, and where the most interesting ice caves in Iceland are. We will also give you some photography, clothing, and safety tips so that you can have the best possible experience. Read on for our ultimate guide to Icelandic ice caves!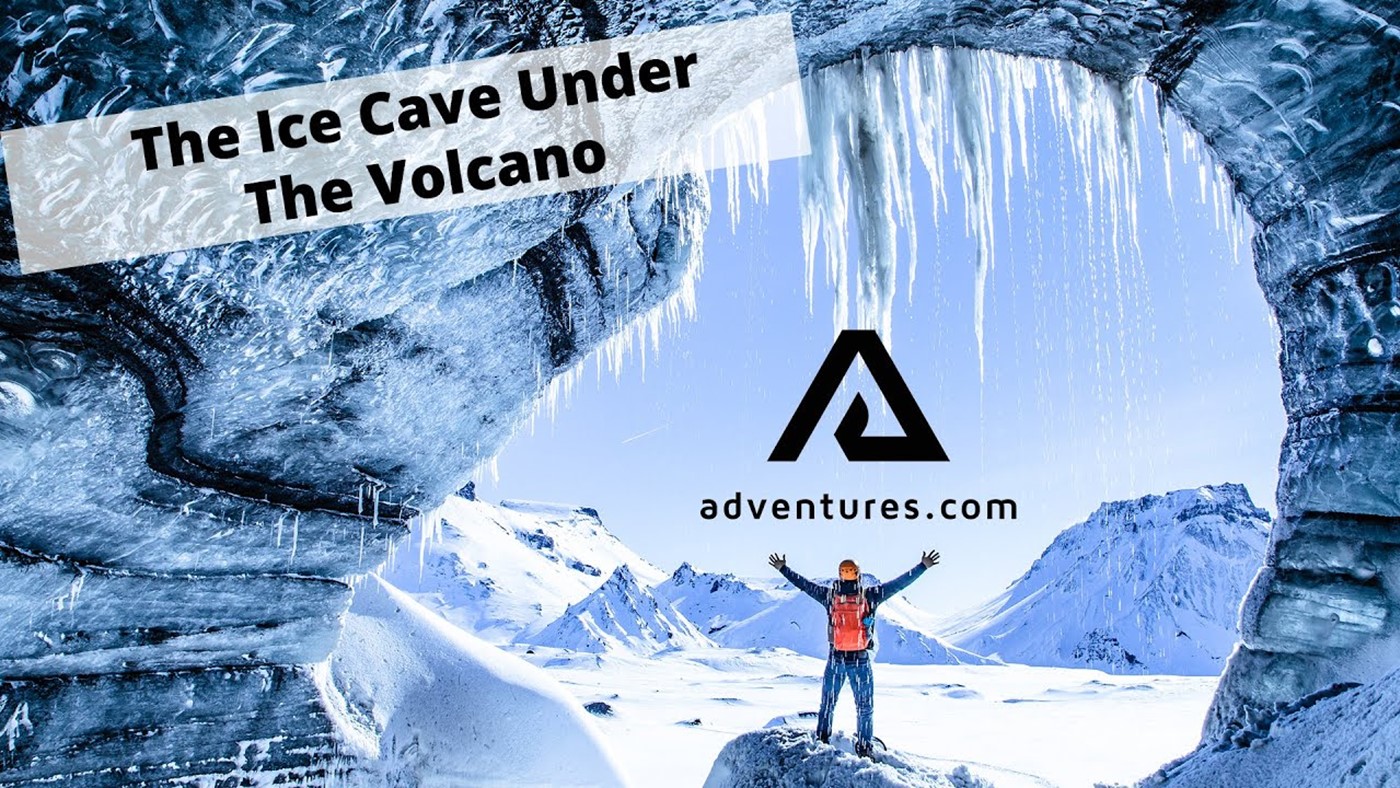 What is an ice cave and how is it formed?
There are two types of ice caves which exist: regular and glacial. Regular ice caves are natural rock caves coated with slicks of frozen water. The ice in these caves is not usually clear but rather a cloudy, milky white. These caves usually feature a lot of icicles and frozen waterfalls. While this type of ice cave is not common in Iceland, there are some impressive lava tunnels that grow giant, thrilling icicles during winter.
The astonishing blue glacial ice caves are the ones that Iceland is so famous for. These phenomena are only found deep inside of glaciers. They formed by the power of meltwater as it travels through the crevasse channels of a glacier. Both air temperature and geothermal activity can cause significant glacial melting. As the meltwater flows through the body of ice, it cuts new paths and carves out huge tunnels and holes deep inside the glacier. When the cold season comes, the caves that the water left behind freeze completely so that they become stable and safe to visit.
When is the best time to visit an ice cave in Iceland?
The ultimate ice cave season in Iceland is between November and March. Most of the natural glacial ice caves are short-lived wonders that form at the beginning of winter and melt or collapse in spring.
Can you see ice caves in Iceland in summer?
During the summer, the caverns are full of water and most of the ice caves are inaccessible. This is the time when the meltwater reforms and creates new caves. As the glaciers move, retreat, and change constantly, an ice cave that has collapsed may never appear again.
There are, however, ice caves that form in the same location each year due to the specific geological attributes of the area. The famous Crystal Ice Cave, which can be found in Vatnajökull, Europe's largest glacier, is a great example of this. A new ice cave has been forming in the same location every winter since 2011.
There are also a few ice caves that can be visited year-round. These, however, are not very common. In the winter of 2017-2018, a spectacular ice cave was discovered in Kötlujökull, an outlet glacier of Myrdálsjökull. This ice cave has remained stable during the whole summer, even though its appearance has been changing constantly. It will supposedly be there next year too, but no one can know for sure.
The man-made ice tunnel in Langjökull glacier is also open to visitors. The cave is carved deep inside the glacier and is built in a way that makes it safe and stable all year round.
How cold are ice caves?
As they're frozen, ice caves must naturally have a temperature below 0°C (32°F). The ice within the cave stabilizes the temperature so it stays fairly consistent throughout the winter. We recommend that, whichever season you go, you dress warmly for freezing temperatures!
Why can't you enter the same ice cave twice?
The conditions of an ice cave are highly dependent on the actual weather. When the temperatures rise, the ice starts to melt. Meltwater can dramatically reshape the caves.
When the temperatures fall, the water freezes and the cave can take on a completely new shape. If the cave is fully flooded and freezes before the water can flow out of it, the cave will simply disappear as the ice fills up the space.
Specifically to Iceland, some geothermal activity can also affect the ice caves. Many glaciers hide an active volcano beneath their thick ice sheets where geothermal heat can be released at any time. This can cause significant melting and redesigning of the ice caves inside the glacier.
On rare occasions, dramatic changes to the look of an ice cave can occur overnight even in the middle of winter. Strong rain, a sudden heat wave, or strong geothermal activity can cause a flood that will reshape a cave completely. Direct sunlight, rain, snow, and normal daily temperature changes also slowly affect the shape of the caves slightly, day by day.
It is most likely that the ice cave that you saw in November will look completely different at the end of the very same season or even after just a few weeks. This is the reason why photos for ice cave tours actually might show a "different" cave than what you see on the tour day, as it's simply not possible to go and take new photos every day.
The caves are constantly changing and this process is exclusively controlled by Mother Nature. Like a snowflake, every ice cave is special and has a unique size, ice texture, and light conditions. Whatever shape it takes, a glacial ice cave is always shockingly beautiful. This is something you can truly see only once in a lifetime because whenever you come back, you probably will never see the same ice cave again!
Why are glacial ice caves so blue?
While snow and the ice made from regular water are white, you may be wondering why glacial ice is so blue. No, it is not Photoshop. It truly is that blue!
The reason why we perceive snow as white is that it contains a lot of air. When light hits those air pockets, they act like a million tiny mirrors that scatter the full spectrum of light in every direction. This is what we see as white.
Glacial ice begins its life as snow. Over decades and centuries, the snow builds up, and the compression of snow under its own immense weight forms dense ice. Furthermore, air bubbles between the ice crystals are pushed out of the ice. Without the air bubbles, the white light is not scattered.
Within the ice, the absorption of red light is six times higher than the blue spectrum. The deeper the light travels inside the ice, the more red light it loses along the way. Glacial ice can be hundreds or thousands of meters thick so the light can travel a long way through the body of ice. A lack of reflected red waves causes our eyes to perceive the color blue. By the time the light reaches the ice cave, it's lost these red waves, resulting in crystalline blue ice.
The Vatnajökull Ice Caves | Ice Caves in Skaftafell
Vatnajökull is Europe's largest glacier, covering around 8% of Iceland's landmass. The Vatnajökull Glacier National Park is renowned for its many outlet glaciers that unfurl like icy tongues from the body of the main glacier. The sheer size of Vatnajökull means that it is difficult to find ice caves that are safe to explore underneath it.
However, luckily many of its outlet glaciers, such as Falljökull and Breiðamerkurjökull contain exceptionally beautiful caves that are ideal to explore. Perhaps, the most famous of these is the Crystal Ice Cave hidden beneath Breiðamerkurjökull glacier. They are some of the most popular ice caves, thanks to their beauty and ability to be easily combined with a glacier hike.
The Crystal Ice Cave in Iceland | Jokulsarlon Glacier Cave
The Crystal Ice Cave, also known as the Jokulsarlon glacier cave, is the most famous in Iceland and a favorite of photographers and nature enthusiasts worldwide. Its vividly turquoise ceiling is illuminated by the flickering rays of the sun – making for a profoundly beautiful spectacle that inspires awe in everyone who sees it. Located on the South Coast, It's hidden in Breiðamerkurjökull Glacier, which also feeds the famous Jökulsárlón Glacier Lagoon.
Some of our most popular tours combine these two natural wonders together – the perfect way to see some of the unique phenomena that Iceland's glaciers create. Check out these incredible photos of the Crystal Ice Cave – we promise that they will leave you speechless!
The Crystal Ice Cave is located at the bottom of the glacier, which means that its thin ice roof is perfectly blue. At its best on clear sunny days, when the rays of the sun illuminate the incredible patterns in the ice.
Skaftafell Ice Cave
Located at Falljökull Glacier, another outlet of Vatnajökull, the ice caves of Skaftafell National Park are an easy day trip combined with glacier hikes or Jokulsarlon Glacier Lagoon. Our day tour combines glacier hiking with ice cave exploring, making for an adrenaline-pumping adventure that is perfect for anyone who wants to see a glacier from multiple perspectives.
The caves here constantly change, with a roof that regularly melts during the summer. Our guides are always astounded each winter by the new glaciers here. If you're looking for the ultimate glacier combination tour, then Into the Glacier is the one for you!
The Ice Cave Under the Volcano | The Katla Ice Cave
Iceland is known as the land of fire and ice and we can't think of a better example of this than the Katla Ice Cave, located underneath an active volcano! Though quite young geologically, Katla Ice Cave is one of the most stunning, and is found beneath Kötlujökull, an outlet of Mýrdalsjökull Glacier.
The area around the glacier is very rugged, making it almost impossible to visit the ice cave by yourself – but don't worry, we offer ice cave tours from Reykjavik and Vik, ensuring that you won't miss out on this marriage of fire and ice.
The approach to the cave may also be familiar to Star Wars fans, as it was used for scenes in Star Wars Rogue One. The lunar-like landscape is difficult to traverse, meaning that you will need to wear the correct equipment – a free addition on our tours!
Once you enter the ice cave itself, you'll be greeted by a meandering ice tunnel that leads to the Ice Cave's famous dome. There is an opening in the ceiling – transforming the Katla Ice Cave into a vast cathedral of ice!
Early in 2018, spelunkers found a second ice cave hidden inside the Katla one. This made our Katla Ice Cave tours even more popular! If you want to see why Iceland is called the land of fire and ice, then the Ice Cave under the Volcano is the ideal tour for you!
The Langjökull Ice Caves | Into the Glacier
Langjökull (the long glacier) is located in the West Iceland. It's the second largest glacier after Vatnajökull, and is the source of many of Iceland's most famous waterfalls, including Gullfoss, Hraunfossar, and Barnafoss. This makes the glacier a must-visit during your time in the land of fire and ice.
Langjökull's interior was mysterious for many years and it was difficult to find any naturally formed ice caves in the region. However, in the past few years, Iceland's finest engineers tackled the massive glacier and carved an ice tunnel through it. This man-made tunnel allows visitors to explore Langjökull's exquisite, icy heart. We offer a variety of tours to the Langjökull ice tunnel, including snowmobile combo tours, Gullfoss combo tours, Golden Circle combo tours and many more.
Our Langjökull Ice Cave tours depart from Húsafell, traveling in a specially designed super jeep across an otherworldly landscape to the entrance to the ice tunnel. There you'll meet a friendly guide who'll provide you with crampons and tell you more about the natural history of glaciers. You can even see the different layers of ice that mark different geological epochs! If you're feeling romantic, then why not visit the ice chapel, which offers ceremonies for you to tie the knot in the heart of the glacier!
Natural Ice Caves in Langjökull
Langjökull also hosts many temporary, natural ice caves, whose fleeting beauty enchants visitors for a brief moment, before they become inaccessible forever. One such cave was found in 2016-17, stunningly beautiful its glistening walls had a diamond-like quality to them. The only way to reach the cave was via a natural glacier chute – making for an adrenaline-pumping and magical experience. However, this cave didn't last very long and became inaccessible during the winter of 2017-18.
Luckily, nature blessed us with another incredible ice cave the next year. It has a gorgeous sapphire blue ceiling, along with ash layers that mark Iceland's dramatic volcanic history. The cave's ceiling is especially spectacular – allowing you to see a mesmerizing frozen ceiling from below and an epic frozen waterfall.
If you're visiting Iceland, then the Langjökull Ice Cave is an absolute must, because it's likely to disappear soon, just like the one before! We offer a variety of combo tours to the Langjökull ice cave, including super jeep tours, glacier hiking tours, and snowmobiling tours.
The world's only indoor ice cave in Reykjavik
It is possible to discover the icy wonderland of an ice cave without even leaving Reykjavík! There is an extraordinary ice cave exhibition at the Perlan Museum, not far from Reykjavík's city center. The exhibition uniquely displays a piece of a glacier!
Using real ice, they created a perfect, 100-meter (300 feet) long ice cave in a way that looks as if it were formed naturally. The ice tunnel features all of the attributes of an Icelandic glacier: blue ice, black ash layers, thrilling crevasses, and a glacier mill. You can feel the cold, hear the sounds of the glacier as it cracks, and are even allowed to touch the ice!
The exhibition centers around the ice cave but it also showcases plenty of other interesting items about volcanoes, glaciers, and climate change. There is a fascinating photo exhibition about volcanic eruptions and an interactive educational display on how ice and snow have shaped Iceland's cultural heritage as well as what will happen to Iceland's glaciers in the future.
How to dress and what to pack for an ice cave tour
As you probably assumed, the temperature in an ice cave is pretty cold. For your own safety and comfort, it is advised to dress accordingly. The following are our professional clothing tips for your ice cave adventure.
Dress in layers! You will sit in a heated car for a few hours then you will exit into wintery conditions. Wearing at least three layers will let you easily adjust your clothing to the actual conditions. Do not wear overly heavy clothing as it makes your movements slow and tiring and it is also very uncomfortable when sitting for long hours in the car.
Wear a long-sleeved shirt and long johns as a base layer, made from fast drying, breathable fabric. For insulation, wear a warm fleece or a wool sweater along with a down jacket or a warm - but not too heavy - coat. On the bottom, choose comfortable pants. All of your other layers should be either water-repellent or waterproof.
For walking on and inside a glacier safely, you will need crampons. These are always provided by the tour operator. Crampons, however, can only be placed on steady boots, preferably hiking boots.
If you do not have them, don't worry. In most cases, hiking boot rental is offered during the booking process. Do not wear high-heeled boots or sneakers because these are not compatible with the crampons.
You will also need a cap or a beanie as well as a buff, a neck gaiter, or a scarf. Gloves are also very important. In mid-winter, you may want to enjoy the warmth of some pocket warmers as well.
Bring a small day backpack with you where you can pack your camera, some water, and, for the day tours, some snacks as well. Meals are not included in these tours.
Your Ice Cave Tour Dressing and Packing List
On you:
Sturdy hiking boots and warm socks
Long wool or synthetic underwear
A wool or fleece sweater
A waterproof or water-repellent down jacket or a warm coat
Waterproof insulated pants
Gloves
A beanie
A scarf
In your backpack:
Pocket warmers
A camera
Extra batteries
A tripod
A water bottle
Snacks
How to photograph an ice cave
Ice caves are beautifully photogenic. Getting a nice shot will surely blow up your Instagram or Facebook feed. Under ideal circumstances, you may shoot the photo of a lifetime that will always to remind you of the most amazing adventure of your life.
Photographing an ice cave, however, can be quite challenging as it can be very dark inside. What is not dark for the eyes can be still completely black for the camera. Naturally, different ice caves have different light conditions which can also change constantly as the length of the daylight changes in Iceland. However, if there is not enough natural light in the cave, they are lit up with reflectors.
Ice Cave Photography Equipment and Settings
Generally speaking, photographing inside an ice cave requires similar settings as photographing the Northern Lights or the night sky. Most of the shots will need an exposure that is longer than a second and it can be tricky to focus, so a tripod is a must. Shooting handheld inside an ice cave can be nearly impossible.
As the temperature in the ice caves is very low, we strongly recommend for you to bring a few extra batteries for your camera. Batteries drain very quickly in cold air, especially in dark places where you need long exposures.
For the best picture, we recommended you use a wide-angle lens, as you need to let in as much light as possible and to get as much of the scene into the frame as possible. The classic approach is to take a super wide angle shot towards the bright entrance.
A model or a silhouette of a person can make your picture even more interesting as the scale becomes more perceivable and the picture comes alive. For shooting this picture, a remote shutter release or a self-timer function on your camera can be very useful. Only use auto-focus if there is a good amount of light coming into the cave. Try not to go too high with the ISO because it will make your pictures very grainy. On cheaper cameras, an ISO of over 400-600 can make your pictures grainy, but of course, more expensive professional cameras can handle much higher ISO settings.
Pro Tips for Photographing an Ice Cave:
Ideal equipment:
A DSLR / 35mm camera
Manual mode functionality
High ISO performance (up to 3000-5000 without producing much graininess)
An ultra-wide angle zoom lens
A tripod
Extra batteries
A light source (flashlight, lantern, or headlamp)
If you do not have an expensive camera, lens, or tripod, don't worry. You may still be able to take nice photos with a camera held in your hand or even with your phone near the bright entrance or a reflector. Brace yourself against the wall to keep it steady or place your camera on a large rock or something that will not move.
After all, you can be sure that there is no camera that will be able to represent the incredible atmosphere and feeling of being inside a frosty, blue wonderland!
Can you visit ice caves in Iceland on your own?
Traveling in Iceland may be one of the most beautiful adventures of your life. Don't ruin your experience by putting yourself in danger unnecessarily. Glaciers are forever changing, with cracking surfaces and fragile foundations. They can be quite dangerous for inexperienced visitors. The glacier ice caves could flood within minutes or, specifically in Iceland, they can be filled with poisonous gases due to geothermal activity.
The only ice caves that are safe to visit are those that are properly examined and approved by local glacier guides and authorities. Only licensed tour operators can run tours to the ice caves safely and legally. Sadly, there have been many tragedies on Iceland's glaciers and in ice caves that were not approved for visiting.
If you would like to visit an ice cave privately, please contact us and we will be happy to accommodate you. Regardless how experienced a glacier hiker you are, never attempt to venture out on a glacier or approach an ice cave without a licensed local glacier guide who knows the terrain and is properly trained and equipped for these circumstances.